Hopf chocolate comes in four delicious flavors

Maca Crunch (2oz) $8.99
Let's be honest, you have got to try this! Maca Crunch is probably the best chocolate of your life! First of all, the flavors of maca, cacao and cashew butter compliment each other so amazingly inside our truffle filling, ... it will blow your mind. And you are going to want more, ... all the time. It's literally addictive. And the cacao nibs adding that extra crunch, ... it's simply an experience! 75% cacao. It's just so good. Need we say more?
FYI: Maca is very high in protein and minerals. It's a root growing in very high elevations in the mountains of Peru and it has so many benefits for your overall health and well-being. It is said to balance your hormones and any reproductive disorders, as well as boost your energy, and as a root has grounding properties. And yes, it also carries a reputation to enhance a man's libido and stamina and may increase woman's breast size. It is used to boosts our overall perfomance and mental functions.
 
ROSE CARDAMOM (2oz) $8.99
Our delicious Rose Cardamom Bar is filled with our creamy smooth stone-ground cashew butter and covered in 75% dark melt in your mouth raw chocolate. While chocolate naturally boosts your energy, cardamom acts as a relaxant for your nervous system and helps you to de-stress. Adding the beauty foods rose, raspberry & strawberry this is not only a delight for your taste buds, but also a loving gift to your special self or a special person in your life.
 
cinna almond (2oz) $8.99
Precious. Ceylon cinnamon meets raw, stone-ground almond butter. This is such a treat! Trails of buttery, smooth cinna-coco-almond truffle surrounded by almond butter infused 75% dark chocolate will make you a fan! Cinnamon helps balance blood-sugar levels and it just gives you such a satisfyingly rich taste on your tongue. Together with the alkalizing properties of protein-rich almond butter, it may very well be your favorite pre- or post-workout treat. It's super low in sugar as well at only 2.5g per serving (4 servings/bar). Go CINNAMON!
And no, it's not a Christmas flavor. Just think more like Mexican style chocolate. YUM!
 
noir (2oz) $8.99
"Oh, just chocolate!" Noir is chic, simple, dark and made from only four ingredients: cacao beans, cacao butter, coconut nectar and vanilla bean. It tastes so rich, dark, creamy smooth, and not too sweet and not too bitter, with only 3g of sugar per serving.
(None of the above statements are FDA-approved, nor meant to diagnose, treat, cure or prevent any dis-ease. We believe, though, that a healthy plant-based diet is the answer to many issues our bodies represent. We are convinced that this lifestyle of eating a variety of plant-based, minimally processed foods, lots of fresh fruit and vegetables, and drinking plenty of clean water is a key to a happier, healthier and more blissful life. For yourself, the animals and the planet.)
Chocolate bar facts:
Each 2oz chocolate bar has an average of ONLY 12g sugar, or less.
All our ingredients are raw & organic!
Our bars are sweetened with low glycemic, sustainable, nutrient rich coconut nectar.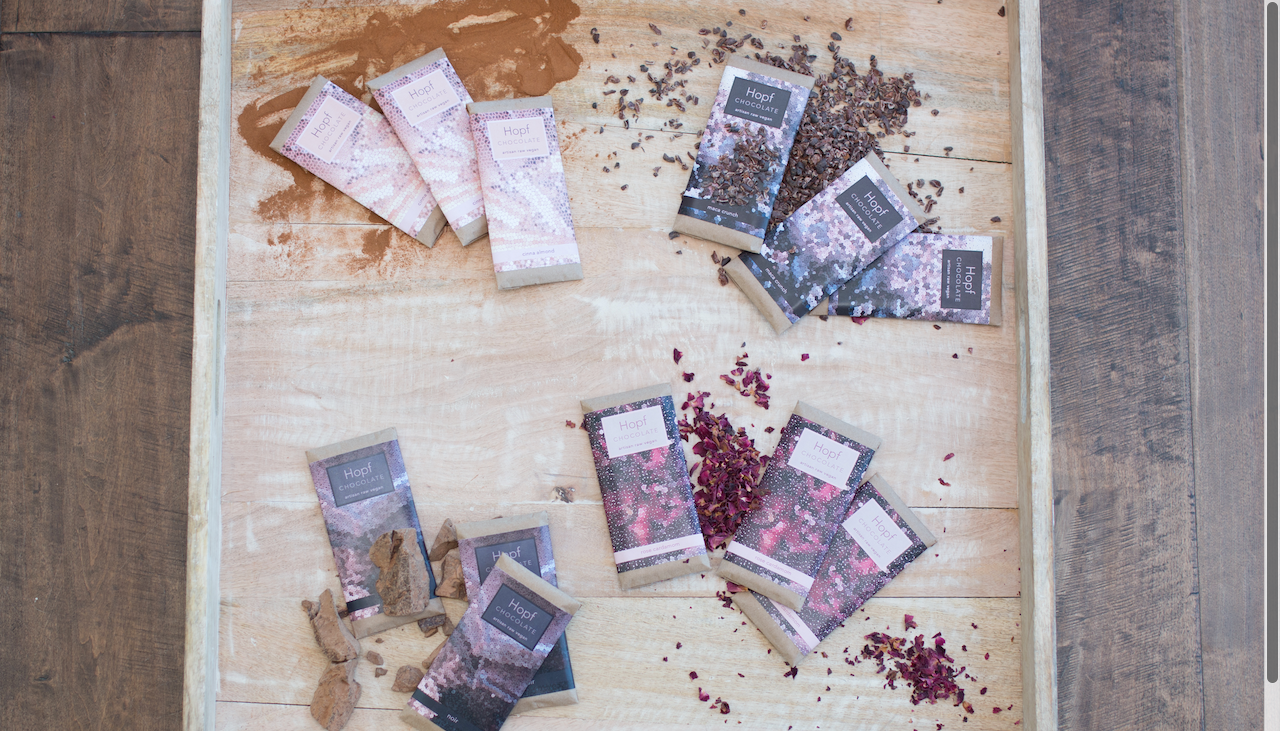 75% Dark German Chocolates
When I first heard the words "raw chocolate"...
... I imagined something extravagant, creamy, rich, dark, smooth and decadent.
Something new. Something intensely intriguing. And I knew it was going to be the best chocolate I will have ever tried.
And it was going to be good for me!
To me it was an infatuation with this purity and richness of this flavorful satisfaction melting on my tongue. Savoring every distinct note of what the Maya had named "Theobroma Cacao", The Food Of The Gods. I was going to go on a mission to create the ultimate delight for all my senses. Flavor, texture, look and smell - all meeting under the umbrella of health, wellbeing and happiness.
For almost a decade now I've been in love with raw chocolate. There's no roasting going on in our kitchen, no burnt smell of cacao or sugar. Raw cacao has a somewhat flowery, buttery, sweet smell and taste to it which I find delights my senses. It is a clean, simple food. And yet so delectable. That's why I can't stop eating it. And truly, if I ate the amount of chocolate I consume in any other kind than my own, I would start feeling sick.
Hopf Chocolate is super nutritious and has an amazing balance of cacao and sugar. It is never overly sweet, but will satisfy any sweet tooth. It will leave you feeling never too full, just fully happy. You will know and feel you ate real food. Yes, indulging in Hopf Chocolate will leave you feeling great, body, mind and soul! Yes, especially your soul!
From me to you.
Blessings,
Andrea Hopf (Owner & Chocolatier)